Summary: AA battery charger and emergency power for your iPhone, cellphones, mp3 players, or almost any device that can be charged from a USB port or cable.   AA batteries to provide emergency power to your  MiFi, iPhone, Bluetooth headsets, popular mobile phones, and virtually any small portable device.   Reusable emergency power source you can use  to charge and power many popular USB portable devices – anywhere, anytime – without an electrical outlet.
When I travel,  I take the TekCharge because it is small and it can provide power for my cell phone, my MiFi, my Pico projector and my digital camera.    When I'm not using the TekCharge,  I use it to recharge rechargable AA batteries.   The TekCharge MP1550 allows you to carry emergency power for your iPhone, cellphones, mp3 players, or almost any device that can be charged from a USB port or cable.
Foremost, the TekCharge is a rechargeable emergency mobile power supply.  You can power your phone (or any USB device) from the rechargeable AA batteries you place inside the TekCharge.   You can also remove the rechargable AA batteries from the TekCharge and use them in your digital camera or CD player or any AA battery compatible device.
Besides powering your mobile device from rechargeable AA batteries,  the TekCharge will power your USB device from store-bought Alkaline AA batteries.  So, if you travel with a small sack of  AA batteries, or have access to a convenience store,  the TekCharge mobile power essentially can provide unlimited emergency power to your USB device even if you have no electrical power outlets nearby.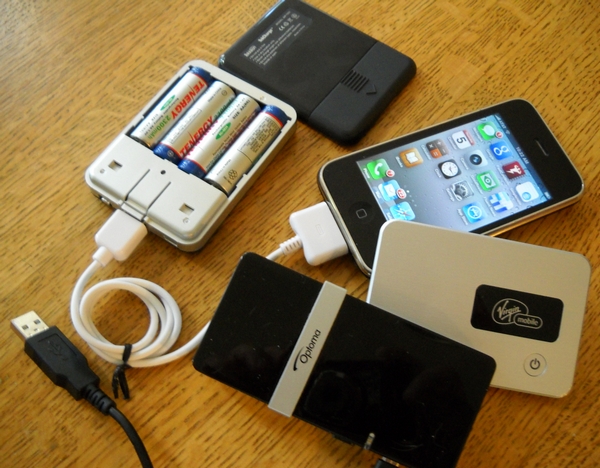 The TekCharge mobile power supply connects to your cell phone or electronic device in two ways:  you can use one of the included adapter to connect to your cell phone or device, or you can use standard USB cable that came with your device.
The Tekkeon Emergency power comes with a charging cable and several interchangeable tips.   This mobile power unit outputs power through a standard 5V USB plug.   The manufacturer recommends using only devices that consume less than 800ma (check your device's power supply); However, I've used this mobile power pack with my MiFi and my Optoma pocket projector, both of which require about 1000mA, (1.0A),
Front panel lights display the battery level and status
8.1 x 6.1 x 2 inches ; 7.2 ounces,  not much larger than the four side-by-side AA batteries it can contain.
Charges up to four st

andard rechargeable  AA batteries (not included) using the (included) power supply

The maximum output current for MP1550 is 800mA.    It can NOT be used with an iPad, which requires 10.0A.
Includes voltage regulator to protect your device and it's battery
An "ON/OFF" switch next to the plug controls whether power is available from the standard USB port.   Indicator lights on the front of the unit indicate charging status and remaining battery charge.    Ideally, you should use four AA batteries with this mobile power supply, but it will also work if you have only one pair of AA batteries installed.
Click this link to read more or BUY the Tekkeon mobile power and Battery Charger
Near the full-sized USB port is a mini-USB jack labeled "5V in" where you'll plug the included charger into the mini-USB jack to charge AA rechargeable batteries (which are not included).   This manufacturer states that this mobile power supply will fully charge two AA batteries in three hours, or four AA batteries in six hours.   The manufacturer suggests to  recharge batteries only when they are completely empty, so the charging function shouldn't be used to "top off" batteries which are only partially discharged.    The Tekkeon is a great travel charger, but you'll probably need another AA battery charger at home to fully discharge and recycle your rechargable AA batteries.
TekCharge comes with several adapter tips to provide:
Emergency power for Blackberry (mini USB)
Emergency power for LG mobile phones
Emergency power for Motorola mobile phones (mini USB)
Emergency power for Nokia mobile phones
Emergency power for Samsung mobile phones
Emergency power for Sony Ericsson mobile phones
Emergency power for iPod (using your own iPod USB cable)
Emergency power for iPhone (using your own iPhone USB cable)
Emergency power for  Bluetooth headsets
Emergency power for MP3 players, PDAs, portable games, and portable media players.
Resources
Photo Credit
Image captures and photographs by Chuck Eglinton