Summary: Most people know that Notebooks and Laptops can connect to the Internet without wires. A cheap PCI adapter can allow your Desktop computer to access the Internet through your wireless router just like a laptop notebook computer.
So, you've gotten over the hurdle of having one Internet connected computer in your home, and now that your family can't live without it, they're often fighting over who gets to use it. So maybe it's time for a second or third Internet connected computer in your home.
Maybe you have a work laptop or notebook computer you bring home from work and you wish you had a "Wi Fi" Hotspot so you didn't have to go to Starbucks or Panera bread to check your email.
Don't be frightened. This will be easier than you think 😉
A "router" is a box that allows you to share your single Internet connection with more than one computer. A wireless router allows you to share a single Internet connection with more than one computer, including computers that can connect without wires, like laptops, notebooks, and PDA's. Wireless routers are used to create what is sometimes called a Wireless Internet Wi-Fi hotspot.
It's easy to tell a regular router from a wireless router because wireless routers generally have two prominant antennas that are used to send and receive the Internet signal to your laptop or wireless computer. You may have noticed that you can buy cheap wireless routers for as little as $10 after rebate.
Many people don't know that you can buy a simple adapter that will allow you to allow your desktop computer to connect wirelessly to the Internet just like a laptop computer can.   A wireless adapter for your desktop computer looks like this: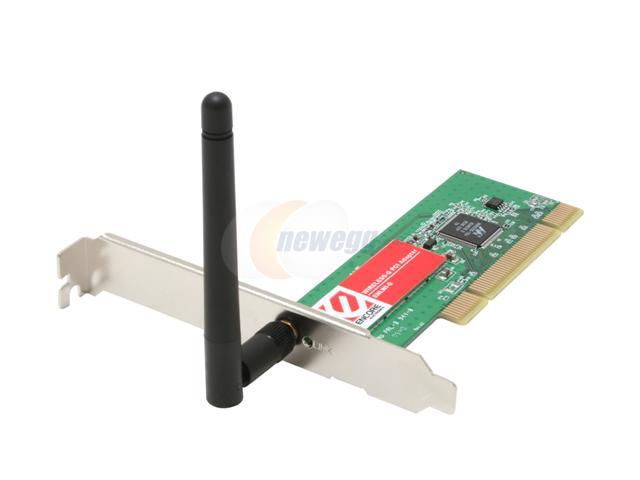 So, how difficult is it to install a PCI card? Generally, it's more difficult to get the cover off your desktop computer box than it is to install the card. The card will come with instructions and software to install, but in general, you'll power down your computer and unplug it from the wall. Then you find an open slot that has exposure to the back of your computer. They're very easy to spot. You'll remove a Philips screw that holds a cover on the slot, then firmly press the card into the slot and replace the screw. Replace the cover, start the computer, and install the software.
These WI-FI network adapter cards are often $25 or more, but the one at the link below is FREE after rebate, with only a $5 ground shipping charge. You must purchase by 8/15 to be eligible for the rebate:
Click here for a WiFi Internet adapter for your desktop Computer
Of course, putting a card in your computer isn't as easy as connecting a cable, but there are a few reasons you may want to take this wireless approach for your desktop computer:
You've decided that you want to move your desktop computer to another room where the cable modem isn't. This card, with a wireless router, makes the move easier.
You may want to buy a second computer for your family, but you want to put it in another room so your kids don't kill each other. Using this wireless card is much easier than hiding 50′ of cable.
At $5, this PCI Wireless adapter is less expensive than a 25′ network cable.
Please write if you have any questions about Technology or gadgets.
Chuck Eglinton