Summary: A Mobile Boarding Pass is a paperless boarding pass you display on your wireless phone. Mobile Check-In allows you to check-in to your flight by wireless phone or from any Internet browser on your computer.   You don't need an iPhone or a Blackberry or even a smart phone to use a Mobile Boarding pass, but your wireless phone must be able to display a mobile web page (or an stored image of the barcode).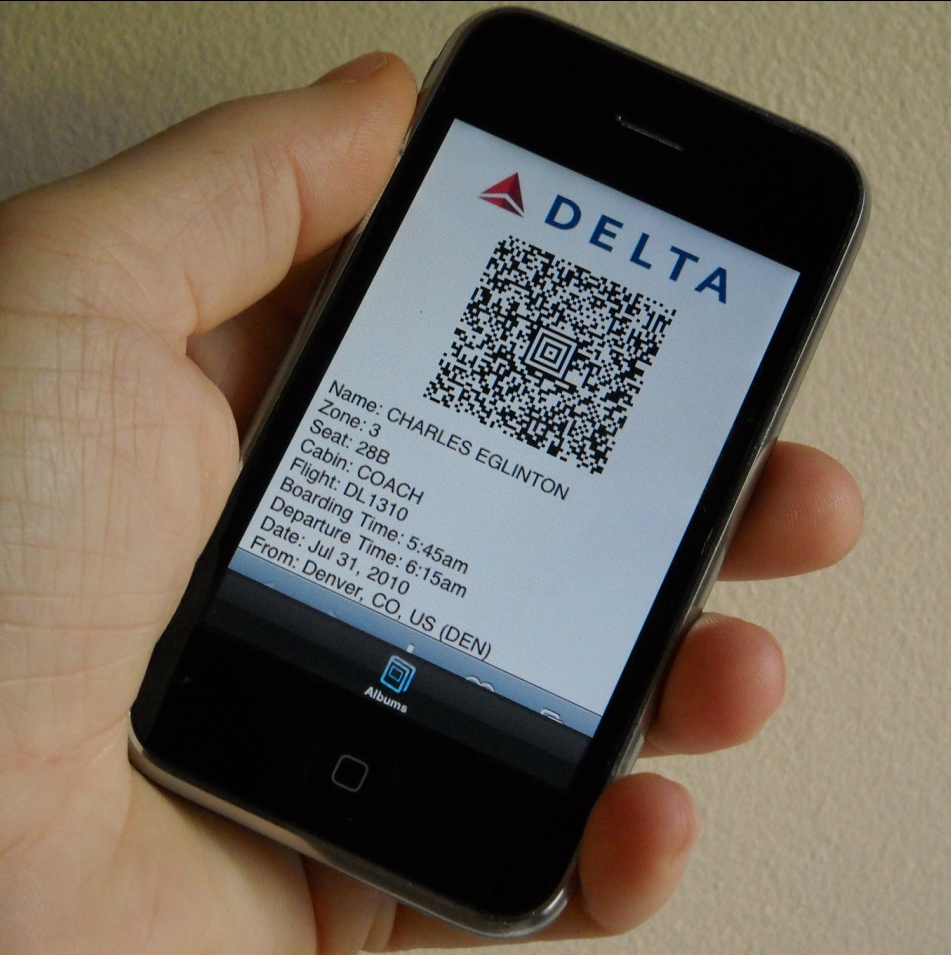 Do you hate standing in the airport check-in line?  Me too.
Mobile boarding passes have been around for a while, but I've just started using them.   I don't mind printing my boarding passes at home where I have a computer and printer, but when I'm at my destination, it's often inconvenient to find a printer; so, I used to stand in line and use the boarding pass kiosks at the airport.   I've found mobile boarding passes for wireless phones to be much faster and more convenient.
Most major airlines offer both mobile check-in and paperless boarding passes.  Within 24 hours of your flight, you can log into your airline's website with your computer browser or your cell phone to check in.   After checking in at the website,  you'll see a choice to print a paper boarding pass, and in some cases, also send a mobile boarding pass to your wireless phone.   I choose both when I have a printer available.   A few moments after requesting a mobile boarding pass, the airline will send an email or SMS message to your wireless phone that includes a URL link to a mobile boarding pass you can display on your iPhone, BlackBerry, PDA, or any web-enabled mobile device.  So, you don't really need to print a boarding pass.  Instead; at the security checkpoint and boarding gate, you simply allow the  boarding pass barcode on your wireless phone's display to be scanned by airport  security agent and the airline boarding agent, instead of a paper boarding pass.
Air travelers like paperless mobile check-in because they can avoid check-in counters, ticket kiosks, and printouts altogether. The TSA Transportation Security Administration prefers the square "dotted" 2-dimensional barcodes on mobile boarding passes because they contain security and authenticity characteristics that don't exist in the old-style, straight-line barcodes printed on old-fashioned paper boarding passes.
Many mobile sites At the United Airlines mobile site, you can also check flight status, flight availability, Mileage Plus statements, Red Carpet Club locations and airport codes. Many airlines include an option for the flyer to receive a text message reminder before the flight.
According to a 2009 CTIA-Wireless Association poll, 82% percent of travelers carry a cell phone.  With so many travelers carrying phones, a paperless mobile check-in system makes a lot of sense.


For years, Japanese flyers have been able to use their cell phones to book flights and reserve seats on flights.  Japan has had paperless boarding since 2006, but the Japanese system is slightly different; it uses a special radio chip in Japanese cellphones to facilitate check-in instead of using a barcode on the cellphone's screen.
Using a mobile boarding pass requires a large leap of faith; you've become accustomed to many years of holding paper boarding passes in your hands.  Me too.  That's why, at least for now, I still print a paper copy of my boarding pass from home computer at the same time that I send the mobile version to my cell phone.  Since I've been using mobile boarding passes on my phone, I've never had to use the spare paper boarding pass, but I've had a sense of security knowing the paper was in my carry on, if I needed it.
Advantages of using mobile boarding passes and mobile check-in:
Mobile boarding passes save paper and reduce your carbon footprint.
Mobile boarding passes easy to get, 24 hours a day, from your computer or mobile phone.
With mobile boarding passes you won't have to find a working printer at your hotel or wait in line at the hotel business center to use a printer.
If you know where your phone is, you know where your boarding pass is.  I'll share trick in the steps so that you can quickly display your mobile boarding pass
Mobile boarding passes are more difficult to physically misplace.  While you might leave a paper boarding pass in an airport store, or bathroom, or restaurant; but you're not likely to leave your mobile phone and mobile boarding pass in those places.   Yes, you can misplace the mobile boarding pass on your phone, but which is why I recommend that you spend an instant to store an *image* of the boarding pass on your phone.
Below I outline the easy steps; How to get mobile boarding passes and how to use mobile boarding passes.   I've also added caveats based on my personal experience.
.
How to use Mobile Check-In with Mobile Boarding Passes on your Wireless Phone

WARNINGS:

INTERNET ISN'T EVERYWHERE: Capture an IMAGE of barcode on your wireless phone. Don't assume that you can get Internet everywhere, even if you have a cellular data plan.   Some users claim that the barcode must be at least the width of your index finger to be read properly.   I was successful having my barcode scanned in both portrait and landscape modes on my iPhone.     To capture an image on your iphone: display the mobile boarding pass, then press the home button and power button in quick succession.  An imag

e of the mobile boarding pass will be saved to your photos folder.  You can use the image in your iPhone's photo folder instead of having to rely on an Internet connection.

Make sure your wireless phone is charged! Your mobile boarding pass will do you no good if you can't power on your phone when you need it.

Keep a PAPER boarding pass handy until you've confirmed your wireless phone can be scanned! – You don't have much to worry about if you're carrying a BlackBerry or iPhone or Droid, or any big-screen smartphone.  But if you're carring a flip phone, with a small screen,  you may want to keep a paper boarding pass in your back pocket while you try out the scanners with your phone's display.

Practice QUICKLY displaying the mobile boarding pass. Nobody likes waiting for a traveler who doesn't have their act together.  When it's time to be scanned, make sure your mobile boarding pass is displayed on your phone and ready to be scanned.  Remember, if your phone goes into standby, it can take 20 seconds or more to get back to the mobile boarding pass image.

Step 1:  Get MOBILE BOARDING PASS on your wireless phone

Step 1: Request your Mobile Boarding Pass via the Internet. Most airlines allow your mobile check in via the Internet within 24 hours of your departure. Visit the airline's website using any computer or from your mobile device.  Nearly all airline sites will automatically display a mobile friendly webpage since they can tell when you're visiting the site with a mobile browser.   Locate and click the check-in link.  Access your reservation by submitting your confirmation number, credit card number, frequent flyer number, or ticket number.

Choose the "mobile boarding pass" or "eBoarding Pass" check-in option, and submit either your mobile email address or phone number. A link to your mobile boarding pass will be sent to your device by either email or text message.  If you have more than one flight, a separate mobile boarding pass will be sent to your mobile device for each segment of your flight.   Although it's not necessary,  I still print a paper boarding pass, just in case, because it's easy to do when I'm sitting at my computer.

Step 2: CHECK BAGS

Step 2:  If you have no bags to check, go to Security. You can drop your bags at the curbside baggage drop or  drop your bags with an  agent at the check in counter, whichever is more convenient.
Step 3: Go to TSA SECURITY
Step 3: TSA Security screening is still required to check your photo ID to confirm that you are the person named on your mobile boarding pass.  When I recently traveled through the Denver airport, only one out of 3 opem security kiosks had a scanner to verify my mobile boarding pass.   In some airports, security's bar code scanner is out of view or they may use a hand held scanner that is in the kiosk.   The agent never touches my wireless phone, I either scan it myself at the kiosk or the TSA uses a handheld scanner to scan it while I'm holding it.
Step 4: Go To DEPARTURE GATE

Step 4: Present the barcode on your wireless phone for scanning at the time  of boarding. Please be sure it's ready to scan.  Other travelers won't be happy if they have to wait while you power on your phone to display your mobile boarding pass.  In my experience, I hold up my wireless phone so that the agent can see it, then I place it myself under the scanner and listen for the beep, before boarding the airplane.    The boarding agent never touches my wireless phone, I scan it myself.
.
Airlines allowing Mobile Boarding Passes:
As of 2010, the airlines below are allowing flyers to use cell phone paperless boarding passes:Air France  – for short and medium flights*
KLM – for short and medium flights
Air Canada – for short and medium flights

United Airlines:  Chicago O'Hare, Dallas-Fort Worth, Denver, Las Vegas, Los Angeles, New York La Guardia, San Francisco or Washington Dulles, you can have your boarding pass emailed to your device. United Airlines:
Orlando, Philadelphia, Phoenix, Portland and Seattle are next on the list to receive the service.

American Airlines The airports participating in the mobile boarding pass system are: Albuquerque (ABQ), Atlanta (ATL), Austin (AUS), Charlotte (CLT), Chicago O'Hare (ORD), Cleveland (CLE), Dallas/Fort Worth (DFW), Denver (DEN), El Paso (ELP), Houston George Bush Intercontinental (IAH), Jacksonville (JAX), Las Vegas (LAS), Little Rock (LIT), Los Angeles (LAX), Memphis (MEM), Minneapolis/St. Paul (MSP), New York LaGuardia (LGA), Oklahoma City (OKC), Orlando (MCO), Phoenix (PHX), Santa Ana/John Wayne/Orange Counte (SNA), Salt Lake City (SLC), San Antonio (SAT), San Diego (SAN), San Francisco (SFO), Tulsa (TUL), and Washington Dulles (IAD) airports.

Delta calls it an "eBoarding Pass."  Northwest / Delta Mobile check-in has been implemented at:

* Albuquerque (ABQ)
* Anchorage (ANC)
* Fayetteville-Northwest Arkansas Regional Airport (XNA)
* Atlanta (ATL)
* Boston (BOS)
* Chicago-Midway (MDW)
* Chicago-O'Hare (ORD)
* Cincinnati (CVG)
* Denver (DEN)
* Detroit (DTW)
* Houston-George Bush International (IAH)
* Indianapolis (IND)
* Las Vegas (LAS)
* Little Rock (LIT)
* Memphis (MEM)
* Milwaukee (MKE)
* Minneapolis-St. Paul (MSP)
* New York-LaGuardia Airport (LGA)
* Oklahoma City (OKC)
* Orange County (SNA)
* Orlando (MCO)
* Salt Lake City (SLC)
* San Diego (SAN)
* San Jose (SJC)
* Seattle (SEA)
* Washington, D.C. – Dulles (IAD)
* Washington, D.C.- Reagan International (DCA)

* Dallas/Fort Worth (DFW)
* Grand Rapids (GRR)
* Los Angeles (LAX)
* Madison (MSN)
* Newark (EWR)
* New York-Kennedy (JFK)
* Phoenix (PHX)
* San Francisco (SFO)Resource Link Here
Photo Credit
Image captures and photographs by Chuck Eglinton