Summary: Get nationwide WiFi Internet for $1 per day, pay-as-you-go with no monthly contracts.   Virgin Mobile is the first to offer the MiFi 2200  Intelligent Mobile Hotspot or Ovation MC760 USB device with No Contact, Pay-as-you Go,for as little as $10 for 10 days use.   Only $1 per day to create an instant WiFi hotspot you can share with up to 5 computers or wi-fi compatible devices.

Dear ChuckEgg: What is a MiFi mobile router hotspot?
The MiFi is very small, slim router that turns a 3G wireless phone signal into a 40 foot diameter Wi-Fi hotspot that can be shared by up to 5 computers or WiFi compatible devices.  You can use a MiFi mobile router to create a password-protected wireless hotspot for your computer, iPad, iPod Touch, personal media player, or any other WiFi compatible device.  You can use the MiFi to create a hotspot, or you can tether the MiFi to a single computer using a USB cable.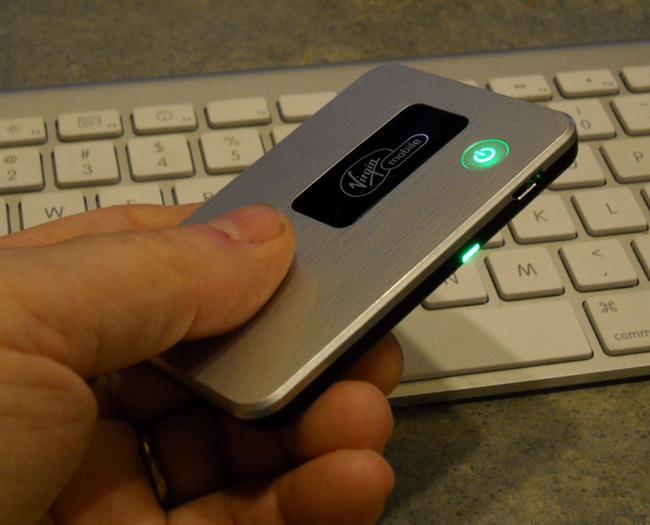 The MiFi 2200 mobile router has been available from Verizon and Sprint for some time, but Virgin Mobile is the first to offer the MiFi with no monthly contract and nationwide pay-as-you-go Internet for only $1 per day, with no monthly service contract (you'll pay $10 for 10 days).  Virgin Mobile calls it the MiFi 2200 Intelligent Mobile Hotspot.
Update:  VirginMobile has revised the rates since I first wrote this article.  The price is still "pay as-you-go, but your choices are $40 for unlimited data for a month, or $10 for 100MB for 10 days.   Click here for details
The MiFi 2200 weighs only 2 ounces and is as small as several credit cards stacked on top of each other.  The MiFi's internal battery will power your MiFi for up to 4 hours of Internet access, or 40 hours of standby time. For a continuously powered WiFi hotspot, you can connect the MiFi mobile router to an electrical outlet or to your computer's USB port.
Some wireless companies also sell a similar 3G EVDO wireless network powered Internet device sometimes called a "USB Device" that plugs into the USB port of a single computer and provides wireless Internet service for only *one* computer and can't easily be shared with other users.  The Purchase price of USB device costs is about 40% less than the MiFi.  The pay-as-you-go data plans cost the same for both the USB device and the MiFi.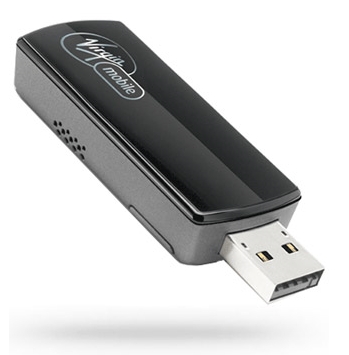 How do you use a MiFi mobile router? MiFi iPad? MiFi iPhone?
I switched from a Virgin Wireless Pay-as-you-go Ovation USB device to a MiFi so that I could use the MiFi with my Apple iPad or my laptop computer.  I have an AT&T data plan on my iPhone, but I find some comfort knowing that if my AT&T network isn't available, there's still a chance I can get Internet access using my MiFi's Sprint 3G EVDO network.
So, I generally leave my MiFi in my travel bag, dormant, without service, as an emergency access device. I use free WiFi at hotels and coffee shops, when it's available, but if I'm in an airport with excessively high fees or at a hotel with high Internet fees, or if I'm somewhere that I absolutely need access, then I power on the MiFi and use my credit card to activate the pay-as-you-go service.
My mother is an extremely light Internet user.  She mostly uses the Internet to read the news, browse Facebook, and surf using Google.  In the summer she doesn't use the Internet at all.   In the winter, she uses the Internet less than 3 hours per week.  In mom's situation, it's considerably less expensive to activate a MiFi for $40 for a month than it is to pay $60 per month for wired broadband Internet.
What are VirginMobile Broadband2go Prices:
Update:  VirginMobile has revised the rates since I first
wrote this article.  The price is still "pay as-you-go, but your choices are $40 for unlimited data for a month, or $10 for 100MB for 10 days. Click here for details
$10 for 10 days 100MB: 5 hours browsing / 25 minutes of video / 10k emails
$40 for 30 days Unlimited data
The first time you use the MiFi, you must visit the http://virginmobile.mifi.com website, enter "admin" as the password then follow the prompts to create a VirginMobile account.
How to use a MiFi Hotspot
Press the "power" button on the MiFi device and it becomes a WiFi hotspot broadcasting a WiFi signal.
From your computer or WiFi enabled device, search for "VirginMobile MiFi2200" from the list of available wireless networks.
From your computer, type your MiFi password (the Network key) to connect (it's printed on the bottom of the MiFi).
A light near the MiFi USB port flickers to show Internet activity. Up to 5 devices/people can connect to one MiFi mobile router.
ChuckEgg's MiFi Mobile Hotspot Tips:
Use VirginMobile MiFi to pay $1 per day instead of up to $10 per day at airports and hotels.
Use MiFi on the go, or for light use at home or your cottage.
Use MiFi in emergencies if your regular broadband is prone to outages.
Use MiFi in locations where monthly WiFi subscription services, like Boingo, are unavailable.
The MiFi  is password protected.   Users connecting to your 40-foot diameter MiFi hotspot must know your MiFi's unique password (it's printed on the bottom of the MiFi router.
Anyone connected to your MiFi network is consuming data from your data plan, so you might want to set up a link to watch your bandwidth usage (at http://virginmobile.com )
The MiFi battery may drain faster if more than one user is connected to the MiFi.
Your WiFi connection may slow if others using the same connection are streaming video or downloading files.
The average download speeds on the MiFi are between 600 and 1400 Kbps.  That's adequate for surfing and checking e-mail, but may not be fast enough for streaming video – especially if you have multiple users connected.
The MiFi is so small that I sometimes use Velcro to attach it to my iPad or laptop lid so that I don't misplace it.
VirginMobile USA is a wholly-owned subsidiary of Sprint and uses Sprint's 3G EVDO Rev A network.  Be aware that although Sprint EVDO is available in most populated areas, it may not be available in all areas.  You may want to consider a MiFi with a monthly plan from Verizon if the locations you visit aren't covered by the Sprint 3G EVDO signal.
How to buy the MiFi device
The retail price for the Virgin Mobile MiFi is $149.  It's slightly more than the MiFi from other wireless carriers because it's NOT being subsidized by a monthly fee. If you order the MiFi directly from the http://www.VirginMobileUsa.com website, you'll pay get free shipping and pay no sales tax. If you purchase from a local retailer, you'll have to pay sales tax.  If you purchase from BestBuy, first use an Internet search engine to find "Best Buy Coupons" that may lower your purchase price.  The VirginMobile MiFi is also available at Radio Shack.
How to buy Pay-as-you-go MiFi service:
Using top-up cards from retailers is the Makes little sense because you'll pay retail sales tax, they get to use your money until you redeem the card, the top-up cards are a hassle to keep track of, and the cards can be lost and never redeemed.
The best way to top up your mobile broadband service is to use your credit card or debit card at the VirginMobile website.  Using a credit card makes it easier to your broadband purchases for business expenses and if you use your credit card it will score credit card reward credits.
you can top up your account with credit or debit cards, or Virgin Mobile top-up cards bought at local retailers.

Photo Credit
Image captures and photographs by Chuck Eglinton