The iRobot Roomba
Amazon.com has a refurbished iRobot Roomba for only $99, which is one of the least expensive prices I've ever seen.
Click here to buy the iRobot Roomba Robotic Vacuum Sweeper for $80
Those of you who know me know I've tried a few robotic things. I have in my garage a robotic lawn mower and a robotic gutter cleaner. I'll be writing about each of those in upcoming articles. We own Roomba robotic sweeper and only recently had to replace the battery after a few years of use.
We usually switch the Roomba sweeper on in our bedrooms, bathrooms or hallways and then close the door so it can do it's sweeping work. You can use a Roomba in a larger area, but for us it's faster to use a full sized vacuum in larger areas. As you'll read elsewhere, it does a surprisingly good job sweeping things up from both carpets and hard floors. The Roomba takes much more time to sweep a floor than you could sweep it by hand, but the point is, you can set this robot loose as you're on your way out to work or school, and when you return home, the work is done. I've constructed my office in such a way that my desks are attached to the walls and don't have legs. I did this so that I can let the Roomba sweep more easily without getting tangled on furniture and cables.
In today's ever-busy world, one of the things that tends to suffer is housework. Let's face it, after a hard day at the office or factory, the last thing you want to do is come home and dust or vacuum. With the iRobot Roomba, at least one half of that equation is taken care of, with its unique approach to sweeping, and lets you sit back with your feet up and enjoy the show.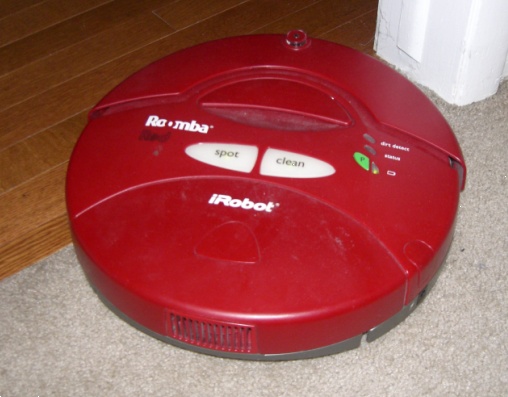 The iRobot Roomba is a small yet sturdy piece of engineering that has been designed to give your home the maximum sweep clean. With an innovative combination of sweeper brushes and angle control it can adapt to pretty much any room.
So how does it stand up to more traditional vacuum cleaners?
The first thing you'll notice is the shape of the Roomba – circular in shape, it's more like a smoke alarm than what you'd expect a vacuum cleaner to look like. However, like all the best deceptive designs, you should never judge a book by its cover, and this is the case with the iRobot Roomba.
Underneath the plastic casing is where the real design genius comes in, though. By using a unique motion sensor technology called AWARE Robot Intelligence System, the iRobot Roomba monitors the environment around the unit, continuously updating the information it's receiving. It actually does this 67 times per second, ensuring that there is no room for error on the part of the Roomba when it comes to detecting obstacles or edge of stairs, etc. This includes using an "invisible wall" to detect areas that the unit is not to operate in.
(Update: some more recent Roomba Models having "Lighthouse" technology can automatically sense and avoids stairs and other drop-off, without using the "invisible wall' device.)
Because of these sensors, the Roomba can automatically change its operating mode, so if you have a carpet and a wooden floor in your home – say dining room to kitchen, for example – the Roomba will detect this and change its settings accordingly. This in itself means that no matter what is on your floor or carpet, the Roomba will pick it up, whether it's light dust or heavy-duty pet hair.
The special design doesn't stop there, either. The iRobot Roomba is made to function as a start-and-forget tool, inasmuch that you simply need to hit the Start button and leave the machine to do its work. Because of this, there were fears that the unit would get stuck if it came across cords or rug tassels, etc. However, due to a specially designed chassis and suspension combination, the Roomba can actually disentangle itself from these types of obstacles.
Another plus point is that it should never run out of power, either – it's intelligent I.Q. realizes when it's about to run out of charge, and it will automatically return to its docking unit to be recharged.
At only $120 for the base unit, going up to $400 for the top-of-the-range model, the iRobot Roomba is easily comparable to the more standard vacuum cleaners on the market today. However, with its ability to get under sofas and hard to reach places, as well as the fact that you don't actually need to do anything but switch it on, it's not surprising to find that the Roomba is slowly but surely taking over as the new standard.