Summary: How to import audiobook CDs to your iPhone iTunes — includes special settings so that iTunes will keep your place in an audiobook. Also keep iTune audiobook tracks out of your music
shuffle. This guide describes how to import regular CD audiobooks to your iPhone, iPad, iPod or iTunes desktop program, such as CDs you might borrow from the library or from a friend.
Similar articles:
How to make an iPhone, iTunes audiobook from multiple MP3
files.
The easy steps in this article will show you how to:
Import a physical audiobook CD
Merge the tracks into one managable track
Use iTunes "Get Info" to set a flage to keep track of where you left off listening to an audiobook and to keep your audiobook tracks out of your music shuffle.
Move the Audiobook from the iTunes library to your iPhone, iPod or audio device.
Start iTunes, Insert Audiobook CD
Start iTunes
Insert a CD
When the iTunes dialog appears, "Would you like to import the CD 'Audio CD" into your iTunes library, click the "yes" button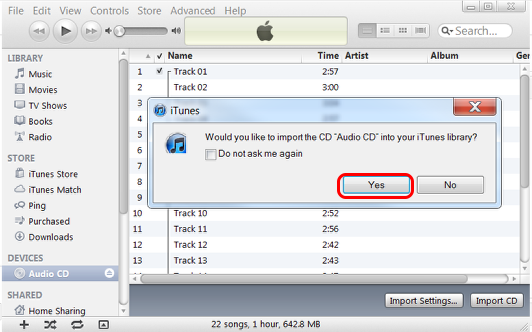 iTunes > Advanced > Get Track Names
After iTunes has finished importing the CD,
from the menu, select "Advanced
then select "Get Track Names"
iTunes will try to find the CD name and track details in the online database CDDB. A dialog will appear if the album was not found in the online database.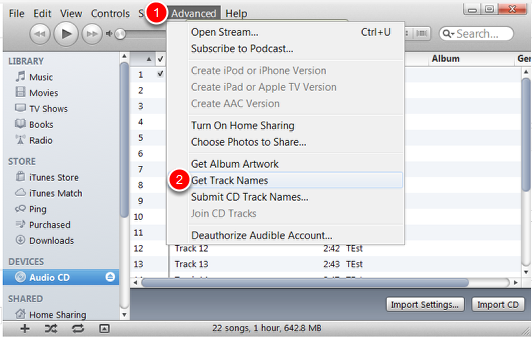 Many CD Tracks into One: iTunes > Edit > Select All
From a file management standpoint, it's easier to manage one long audiobook file than it is to manage a lot of separate audiobook tracks. iTunes has an easy way to combine multiple CD tracks into a single track. Begin by selecting all the tracks that you want to combine into one.
From the menu, select "Edit"
From the dropdown select "Selct All"
Note that all the tracks will be selected (highlighted)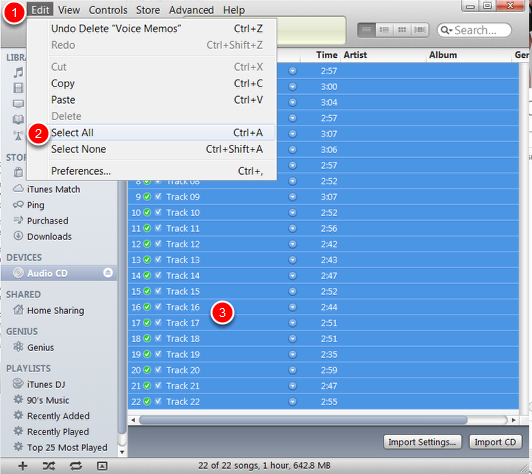 iTunes > Advanced > Join CD Tracks
After you selected the tracks to combine into one,
From the iTunes menu select "Advanced"
From the iTunes drop down menu select "Join CD tracks"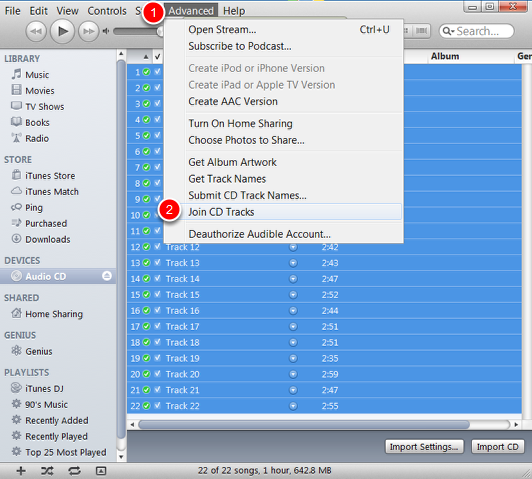 iTunes > Importing Audio CD
Watch the indicators on the iTunes "Importing "Audio CD" dialog. All the tracks will be combined into the first track.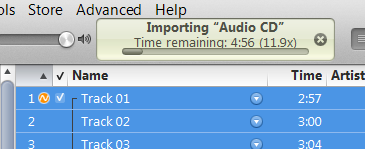 iTunes > Get Info (Set Tags)
Now that the CD has been imported to iTunes, it's important to identify the track and to set the flag files so that iTunes knows that this is a spoken audiobook file and not a music file. This will separate your Audiobook track from your music and prevent your audiobook from being in your music shuffle.
In the left column "LIBRARY" section, select "Music"
RIGHT-Click the Audio CD that was just imported. If it had no name, it will be called "Track 01"
From the menu dialog that appears, select "Get Info"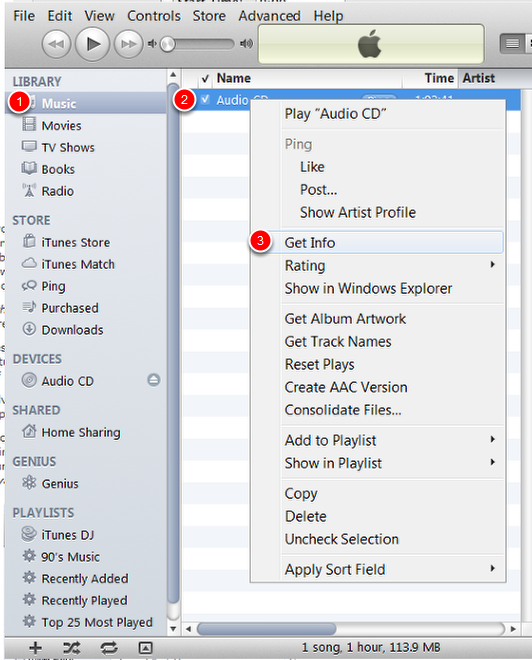 ITunes > Import CD > Get Info > Info Tab
When the Get Info dialog appears
Select the "Info" tab.
Complete the Name, Artist, and any other information about the CD
Click "Ok"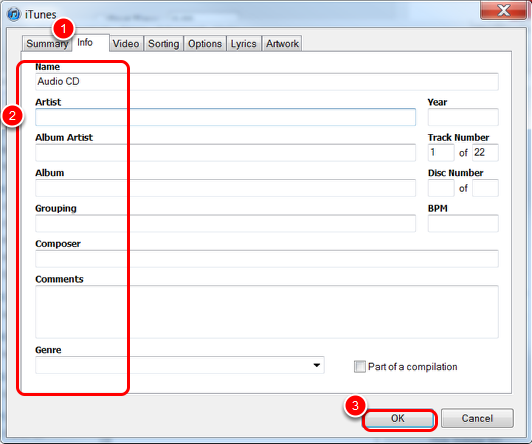 ITunes > Import CD > Get Info > Options Tab
VERY IMPORTANT STEP. This is where you tell iTunes that this track is an Audiobook and not a music track.
Select the "Options" tab.
In the "Media Kind" drop down, select "Audiobook"
Select the following checkboxes: Remember Playback position, Skip when shuffling, Part of a gapless album.
Click "Ok"
iTunes > LIBRARY > Books
IMPORTANT: Note that your audiobook track has now disappeared from the LIBRARY > Music folder.
Now that the Media Kind is "Audiobook" you will find this file in the LIBRARY > Books folder.
The next time you connect your device, the files in your library having a checkmark will be synced to your device.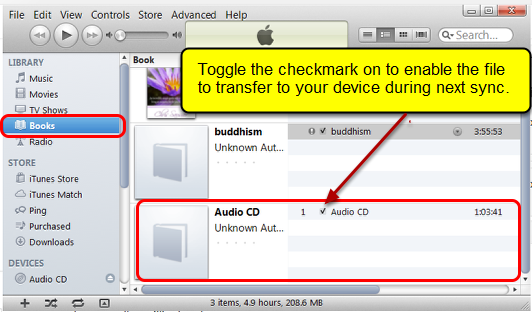 iTunes > CD to Audiobook > Sync
To initiate a manual Sync command,
Be sure your iPhone or device is already connected
Click the name of your device in the left column
Click the "summary" tab at the top
Click the "Sync" button.
When the Sync is complete, the Audiobook will be transferred to your iPhone or audio device.
On your iPhone, click the "MUSIC" icon, then "Recently Added" to see the Audiobook on your iPhone or audio device.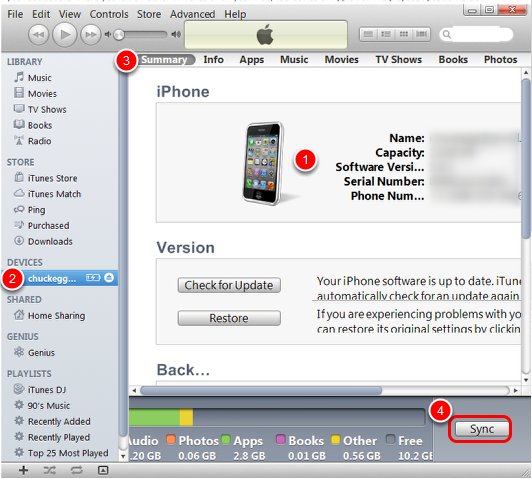 Did you enjoy this post? Why not leave a comment below and continue the conversation, or subscribe to my feed and get articles like this delivered automatically to your feed reader.