Summary:  How to use Google Maps to create a custom map with custom places and points of interest.    Make custom Google Maps that you can share with others that have markers and descriptions you can create and edit.

You may use Google Maps to find single addresses or point-to-point directions.    Did you know that you can use Google Maps to create maps that have markers with addresses and points of interest that you can create and edit?   After you create a marker on the map, you can edit it to add photos or notes.  For example, you may want to add a note about business hours or contact names.    Besides sharing the maps with others, you can use a 3rd party app to access your custom maps on your smart phone.   Recently, I used the Google Maps "My Maps" feature to create a map with addresses and businesses that I needed to locate during a visit to Boulder Colorado.
Here are the reasons you might want to create custom Google maps:
Create a Google My Map to mark notable places you want to share with other vacation travelers.
Create a Google My Map to mark businesses you want to visit while on a business trip.   You can also add notes about whom to contact and add pictures.
Create a Google My Map to create a history of places you've visited (you can add photos that others can see online)
Create a Google My Map to create a map of places to visit on a road trip
Advantages of custom Google Maps, "My Maps"
You can easily add more places and edit places.
You can easily share Google My Maps with others or make your maps public
You don't need to print maps because you can view Google My Maps iPhone (with a 3rd party app)
.
Below are the easy instructions for creating a custom Google "MyMap" with custom  markers…
To activate the Google "MyMaps" feature:
1) Log into your Google account (important)
2) Go to http://maps.google.com
3) See the "MyMaps" features and map list in the left column
To add a new map with new poin
ts of interest:
1) Click "MyMaps" in the left column
2) Create a map name where you'll save the points of interest.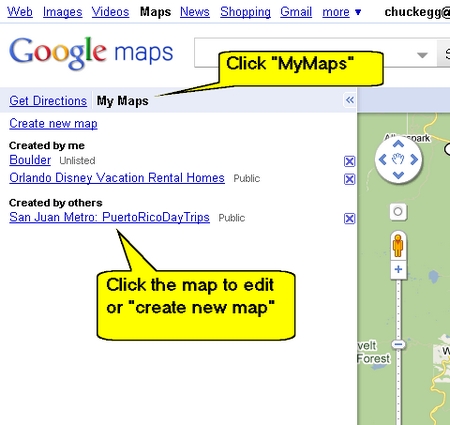 To add points of interest to a map:
1) Type an address or location in the search box, like you normally would with Google Maps,
2) Multiple search results may appear.  in the desired search result,  Click the "Save to…" link to display the "Save to My Maps" drop-down dialog.
3) In the "Save to My Maps" dialog,  select the map to which you want to save this address, then click the "Save" button.
4) A pushpin and text balloon will appear on the map.

To edit the place, add a description, or change push-pin markers
1) Click the "MyMaps" link at top of left column
2) Click the link for map you want to edit
3) Click the [Edit] button at the top right corner of the left column.
4) In the list of places, click the place you want to edit
5) Edit the place name, description, or push-pin marker
6) When finished, click the "Done" button at the top of the left column.

.
Things you'll Need
Google Account.  Visit  http://www.google.com  then click the "Create an Account now" link
Photo Credit
Image captures and photographs by Chuck Eglinton