A few simple post production tips to make live streams more professional.   This tip is how to change the thumbnail (still image) that appears in YouTube search results.
Log in to YouTube and go to YouTube's Creator Studio
First, sign in to www.youtube.com,
then at the top right of your screen, click your account icon to display your account dialog box.
Then, click the  "Creator Studio" button.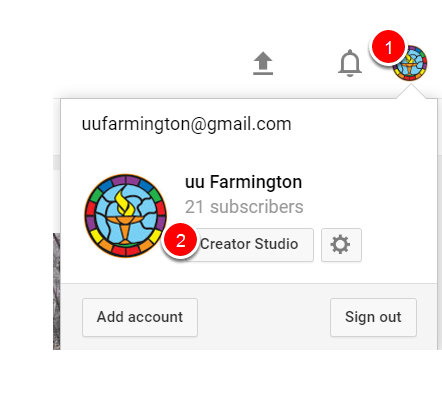 Select Video Manager >  Edit > Info & Settings
Select Video Manager, in the leftmost column.
Click the "Edit" button near the video you wish to edit.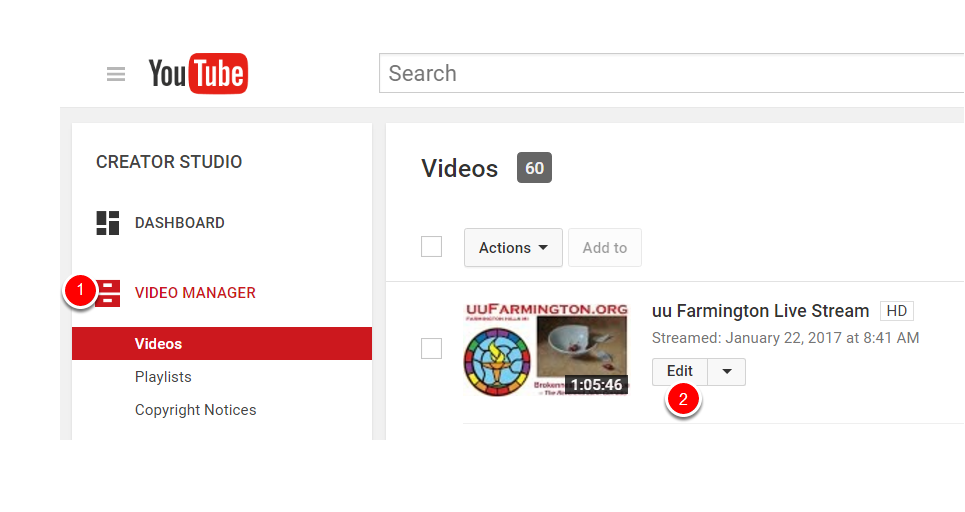 Click the "Enhancements" Tab then the "Trim Button"
Click the "Enhancements" Tab at the top
Then click the "Trim Button" at the bottom right corner of the preview
How to use the YouTube TRIM
Click the Pause/Play icon to start and stop the video
You move forward and back in a video by dragging the dot on the progress bar (this is called "scrubbing")
When you click the "Split" button, a "trim bar" is placed on the bottom view.
You can move the trim bar by clicking and dragging the three vertical lines.   You can drag the leftmost and rightmost trim bars to trim the beginning and end of the video.
To delete a segment of video, click the "X" that appears at the top between any two trim bars
Note that you can click the "Clear" button to remove the trim bars and start over
Click the question mark for hints about keyboard navigation
After you've trimmed the video, click the blue "Done" button to save your edits.
Navigating with the keyboard: With keyboard focus on one of the two trim handles, LEFT and RIGHT arrows adjust the trim in small jumps. Adding modifier keys (such as SHIFT, CTRL, and ALT) makes the jumps bigger.
Make any other "Quick Fixes" then Save your edits
Note that the YouTube Enhancements option provides other "Quick Fixes" such as Auto-Fix and Stabilize
When you're finished with editing, trimming and enhancements, click the blue "Save" button to save you work.
Note that your changes may take a while to appear at YouTube.
DELETING YouTube Videos (individually and in bulk)
Sometimes when you live stream, you may have false starts or you may make a short video to test your settings.
In the left column, click "Video Manager"
Enable the check boxes for the videos you want to delete
Click the Actions button at the top to display the Actions Menu
Click "Delete" in the Actions menu
Confirm your action when the "Delete videos" dialog appears.