Summary: How to quickly and easily burn MP3
files to regular audio CDs for your car or portable CD player. If the MP3 files can be re-ordered and as each audio CD is filled, you're prompted to insert a new blank disc.
There are many reasons you may want to take bunch of MP3 files and burn them to regular audio CD's. You may have purchased MP3′s and downloaded them but want to play them on a portable CD player. Or, you may want to play them in your car which has only a regular (non-mp3) CD player. You may want to select some MP3 files from your collection to make a sampler CD for a friend.
Windows Media Player version 7 or above allows you to drag and drop either individual MP3 files or groups of MP3 audio files to a "burn list." Once selected, you can organize the order in which the tracks are played
Note: Some older players can't play burned discs just because the media is a little bit different than mass-manufactured discs. Homemade discs are "burned" with a laser, but mass produced discs are stamped. No real restrictions, but some burner programs allow you to burn either "data" discs or "audio" discs, and if you choose "data" they won't play.
Mp3 files to a Car Audio CD
SEQUENCE FOR THIS STEP:
Start latest version of Windows Media Player
Click the "BURN" tab
Drag as many MP3 files to the "Burn list" as you want. You can either drag them from the navigation panel on the left, or you can drag the files from any open Windows Explorer window.
Drag the files around in the "Burn list" if you want to change them to a different order.
Click "Start Burn" in the menu bar just below the "Burn" tab at the top of the Burn list
Windows automatically fills each CD then asks for the next blank disc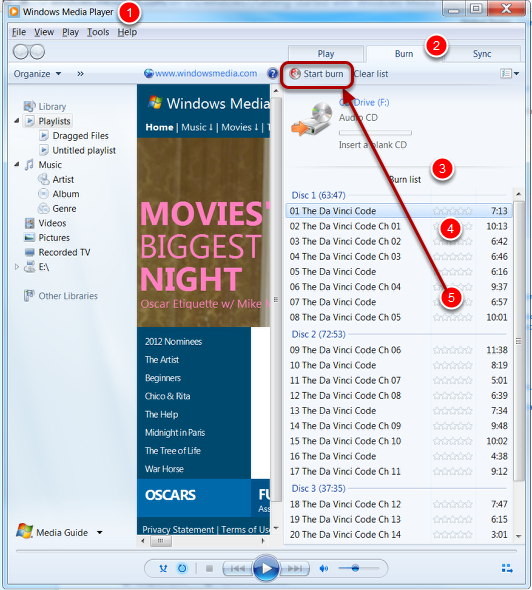 Did you enjoy this post? Why not leave a comment below and continue the conversation, or subscribe to my feed and get articles like this delivered automatically to your feed reader.