Summary: Learn how to use your Apple iPad or iPod touch to make cheap or free phone calls to cell phones and land lines.   Make phone calls from your Apple iPad or iPod Touch without a cellular phone plan.
.
Friend: "Have you lost weight?"
Me:  "No, I just have a really, really, really big iPhone."
Contrary to Stephen Colbert's report, yea, you *can* make phone calls with your  iPAD.  It does not require a contract and phone calls do  NOT consume your cell phone minutes.

Some of my friends have complained that AT&T has "no bars in more places."   My friend Mike Wendland wrote to me, "[the iPhone is so] immensely useful that it makes the slightly more [AT&T] network frustrations worthwhile."   Well, when you install either of the apps in this article, you'll be placing calls through your WiFi connection instead of having to deal with "AT&T network frustrations."
Read this article to learn how  to make phone calls with your Apple iPad, iPod Touch, or iPhone using your WiFi connection.
.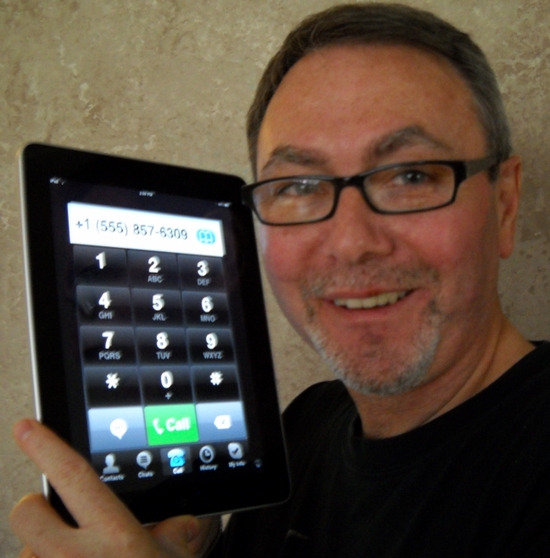 .
I've been using my computer to make calls from computer-to-computer via voice over Internet, since about 2005.   Then,  In 2006 I started trying different devices and software, such as Skype and MagicJack, to make phone calls from my computer to cell phones and land lines.   I was pleased to discover that the iPad and iPod touch can also be used to make free calls can cheap calls to cell phones and land lines.
in 2010,  David Pogue wrote in the New York Times about an iPhone App called "Line2," by Toktumi, which allowed you to use your iPhone to place calls to regular phones by using your iPhone's WiFi connection instead of using your AT&T voice minutes.    Pogues article was one of his most popular (and most emailed) and the rush of folks downloading the iPhone "Line2" app caused such a burden on the Line2 servers that they temporarily withdrew the app.  the Apple iPhone / iPad app Line2 is a free download from the iTunes store, but has a $15 monthly fee.
"Line2" for the iPad and iPhone is cool.  But Skype can can do the same and at a fraction of the cost.
When my wife and I took a trip to Europe, I subscribed to the Skype services that allowed me to use the WiFi connections to make and receive phone calls to land lines and cell phones.   In Europe,  I often used a special Belkin WiFi Skype phone.  You can download a free App that does the same thing on your iPad, iPhone or iPod touch.   My friends and clients who dialed my U.S. Skype number had no idea I was answering their calls from WiFi Connections throughout Europe.
Unlimited calls from Skype to regular landlines and ce
ll phones is called "Skype Out" and is $2.95 per month.
http://www.skype.com/allfeatures/subscriptions/
Skype also has an optional service, called "Skype In" for which you pay $30 per year for a regular phone number.  People can call you from a phone or cell phone and you pick up the call with Skype software on your iPad or iPhone or from Skype Software on your PC or Mac.  The price for Skype-In is 50% off if you are a Skype OUT subscriber (optional: $30 per year)
http://www.skype.com/allfeatures/onlinenumber/
Instructions
Operating Systems: Apple iPad, iPhone, iPod Touch
Difficulty: Easy
Time: a few minutes
Things you'll Need
.
Part A: Title

Here are the steps to install the Skype (or 2nd Line) app to make phone calls from your iPad or iPhone or iPod touch

Step 1
Step 1 From the home screen on your iPad, iPhone, iPad Touch, tap the "App Store" icon.

Step 2

Step 2 Use the search box to find and install "skype" and/or the "Line2" app.

Step 3

Step 3 Register at the "Skype" or "Line2" website.
Step 4

Step 4 At Skype, register for "Skype Out" if you're only making outgoing calls to land lines ($3 per month)

Step 5

Step 5 At skype, register for "Skype In" if you also want an incoming phone number  ($30 per year)

Step 6

Step 6 Tap the Skype application and dial phone numbers or choose contacts from your iPhone contact list to make calls to cell phones and land lines.

Photo Credit
Image captures and photographs by Chuck Eglinton