Summary: While the iPad, iPhone, and iPod touchscreen keyboards are adequate for many uses, sometimes you may want to connect a regular fully sized keyboard to your iPad or iPhone or iPod Touch.  Here's how to do it.
Those of you who are familiar with the iPhone or the iPod Touch know that Apple's touchscreen keyboard is a bit different than a regular keyboard. Most importantly, because you're tapping a flat screen, there's no tactile response. The iPad's screen keyboard, when in landscape mode, is a bit better than a iPhone keyboard, because it's bigger, but the Apple iPad keyboard is still not the same as a regular keyboard.
NOTE: The iPad easily supports a Bluetooth keyboard with no modification. However, the iPhone and iPod Touch require that you "Jailbreak" your phone then install an app called "BTstack" before you can connect a keyboard.   (Update: 4/13/2010 see the comments below.  The older white Apple Bluetooth keyboard, model A1016,  is apparently incompatible with the iPad.   Most other Bluetooth keyboards are compatible with the iPad.)
[Related article: How to make free and cheap phone calls from your iPad. Click Here]
Fortunately you can easily connect any regular bluetooth wireless keyboard to the iPad iPhone or iPod Touch using the device's bluetooth wireless compatibility.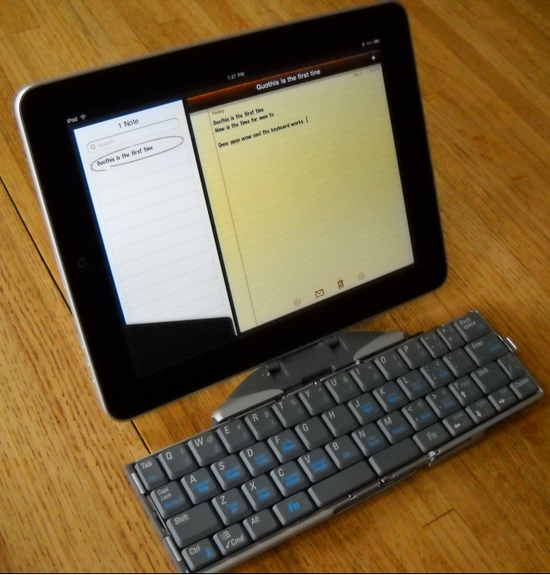 Adsense Below is the same iGo portable keyboard folded in half so that it can be tucked in a pocket, bag, or purse.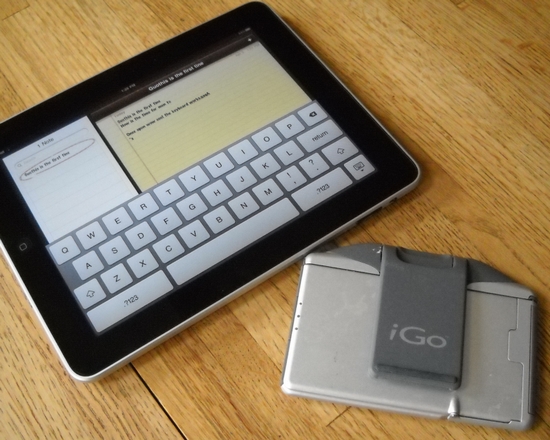 Instructions
Operating Systems: Apple iPad
Difficulty: Easy
Time: A couple of minutes
Things you'll Need
A Bluetooth compatible keyboard
An Apple iPad, iPhone or iPod Touch
.
The X-pain Method

"5″ width="100%">

How to Connect a Bluetooth Keyboard to your iPad, iPhone or iPod Touch

How to connect a regular wireless Bluetooth Keyboard to your iPad, iPhone, or iPod Touch.

Step 1
Step 1 From the iPad, iPhone, iPod Touch home screen, tap "Settings"
Step 2

Step 2 On the left side of the screen, tap "General"
Step 3

Step 3 On the Apple Ipad, iPhone or iPod Touch, tap "Bluetooth" and slide the Bluetooth switch to "On."

Step 4

Step 4 Use a search engine or your computer's manual to learn how to start "Discovery Mode" on your bluetooth keyboard. The "discovery Mode" allows bluetooth devices such as your iPad (iPhone, iPod Touch) to discover each other. Usually, Bluetooth devices stay in discovery mode for only a couple of minutes, so you'll need to have both devices in "discovery mode" at about the same time.   If the two devices are within range, the Apple device will display a message similar to this:

"Keyboard would like to pair with your iPad iPhone iPod Touch.  Enter the passkey "39291″ on your Keyboard followed by the return or enter key."

Step 5

Step 5 Use your wireless Bluetooth keyboard to type the random passkey number displayed on the Apple device.   Once you've successfully connected (or "paired") the keyboard to the Apple device, you'll not need to do it again.  They'll automatically connect to each other whenever they're both in "Discovery Mode."
Resources
Photo Credit
Image captures and photographs by Chuck Eglinton
Did you enjoy this post? Why not leave a comment below and continue the conversation, or subscribe to my feed and get articles like this delivered automatically to your feed reader.