Summary: This is a chart describing the Requirements, Prices, Methods, and Features of Google PowerMeter approved electric devices that send your real-time electronic usage to the free Google PowerMeter website.
.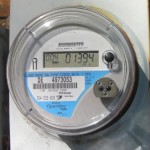 6/24/2011 Update:  Google has decided to discontinue Google PowerMeter as of September 16, 2011.   Google created PowerMeter and "Google Health" (also being discontinued on January 1, 2012) were both based on the idea that, with more and better information,  people could make smarter choices about personal health and wellness, or conserving energy at home.  In short: If you can know your usage of electricity, real time, then you can reduce your usage of electricity.

IMPORTANT:  You can use the devices described in this article  to collect and analyze your electric meter data – without Google Power Meter.    Some of the electric usage monitor devices have integrated internet connectivity.  Others require connection to another device, such as an Internet bridge that connects the electric usage monitor to your internet router.
How can I collect my real-time electricity consumption data from my electric company?
Electric companies are continually replacing older meters with new electronic electronic meters. Contact your electric company and ask them if they can give you the URL of a website that will allow you to view your electric usage data on the Internet.    If your electric company doesn't yet allow you to collect data from them, you can buy relatively inexpensive devices that will allow you to capture your electricity usage data from your meter or circuit breaker box.   The new electronic meters allow for two-way communication of electric use and billing data between your home or business and your electric company.  The information is sent over a secure communication network.
How can I collect my real-time electricity consumption data from my electric meter?
You may be able to collect real-time electric usage data from your outside electric meter, if you have one of the new electronic meters (the kind with the digital readout, not the older kind with the moving analog dials.   These are called API compatible electronic meters.  Some of them have wireless transmitters from which you can collect data.  Some of them have a small infrared transmitter to which you can attach an optical sensor to collect the data.  The disadvantage is that it may not be convenient to connect a data collection device to your electric meter because your meter is likely outside your home and you'd need to install cables back to your computer for data collection.
How can I collect my real-time electricity consumption data from my circuit breaker box?
If you don't have one of the new API compatible electric meters, or if it is inconvenient for you to collect data from your electric meter, you can still collect data directly from your electric circuit box.   You'll install a small box in or near your circuit breaker box, and you'll place "CT" Current Flow sensors on the large incoming power cables of your circuit box and you'll install a small digital box near (or in) your circuit box that will collect the data.   The easiest (and recommended) "CT" Current flow sensors to install are "split CT sensors that you open up and close around your electrical wires.   The more difficult to install  "CT" current flow sensors are "doughnut" CT sensors that do not clamp on, but require you to remove and replace circuit breaker wiring to install them.  CAUTION:  Electricity can kill you.  Exercise extreme caution whenever you're working with electricity.
How can I read my new digital electric meter?
Your new advanced electronic meters have a digdata.   The easiest (and rec
Things you'll Need
Either a (API compatible) Electronic Electric Meter (one having a digital display, not spinning wheels)
Or, If your electric company doesn't provide access to electric usage data, you'll need to buy and connect a small electronic  device to your electric meter or to your electric circuit box to monitor usage of electricity (some of these devices are described in chart below)