DOWNLOAD COMPLETE MAGAZINE ISSUES for offline reading on your tablet or smartphone or desktop – (if your public library participates in the Zinio for Libraries program).
Immediate access to current magazines and back issues: No wait, No holds, and no time limits.
Handy [TEXT] button converts articles to LARGE PRINT for easy reading on your smartphone or tablet.
Receive Email Notices when new magazine issues are available.
More articles in this series:
Using INSTAPAPER for Ad-Free & Distraction Free Reading (Coming Soon)
Using REEDY to double your Reading Speed (Coming Soon)

Does my Public Library Offer FREE Digital Magazines?
Search for your library using Google or Bing, but add the word "zinio" to the search text. Here is sample search text -> farmington public library zinio
Click on any search result for your library that includes the word "ZINIO" for hints about how to sign up.
If none of your search results include "Zinio," then call your library directly and ask them if they offer digital magazine access through Zinio or some other service.
"Zinio For Libraries" Sign up Step 1 of 2: Get your Library's Link
You will need a valid library card. Some libraries require in person proof of residency every so often (every two years at my library) or they may deactivate your library card.
You must sign up using the special URL from your library's website. Note that each library or group of libraries has a slightly different URL (ours includes "thelibrarynetworkmi").
Click "Create New Account"
Type your valid library card number (with no spaces)
Click the blue "Next" button
If you have successfully created a New Account, a dialog will be displayed allowing you to create a login and password.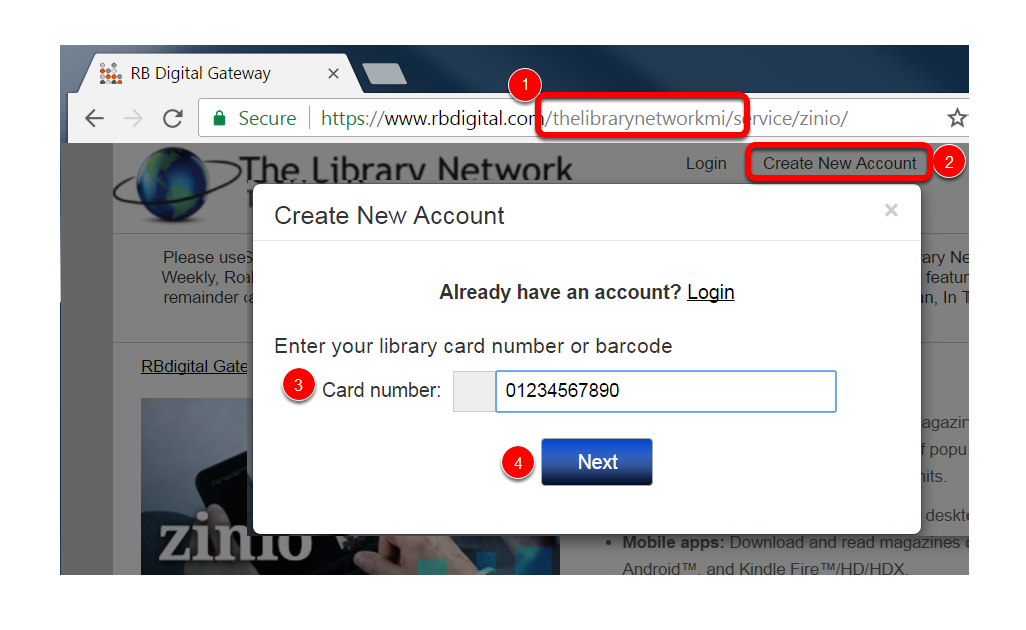 Sign in to Your "Zinio for Libraries" Account
It's important to use the RBdigital link (instead of a zinio.com URL) so that the magazines displayed are only those offered by your library. If you log into a Zinio link tne non-free magazines will appear such as Playboy.
Login, Click this link to log into your account
Enter Login and Passord. Use the ID and password you created in the previous step
Remember Me, Enable this checkbox if you would like your browser to save your log-in credentials
"Log In" button. Click it after completing the screen.
Set "My Preferences" After Your First Log In
Setting your preferences is important because it's the best way to track only the few magazines you care about out of the 200-plus magazines that are available. Note that you may need to create a filter in your email program to prevent email notifications from going to your email spam folder.
Preferences Button is the button to the right of your "Welcome" message. Click it then click "My Preferences" from the dialog box that appears.
New Issue Notification. This dialog appears after you select "My Preferences"
Add & Remove Click any [+] in the left box to add a magazine to your notifications. Click any [-] in the right box to remove a magazine from your notifications.
Email Me to tell me about new publications. This checkbox is optional.
[UPDATE] button. Click this button to save your preferences.
How to Check Out Digital Magazines
QUESTION MARK ICON (?) Tap this to display frequently asked questions (FAQ) and tutorials.
MY COLLECTION or BROWSE ALL MAGAZINES Tap this text at the righ to tobble between these two views. You can also change the number and genre of magazines displayed by using the drop down menus near this link.
SEARCH BOX. Use this to find and display magazines by typing a full or partial magazine title.
To CHECK OUT A MAGAZINE, click the [+] icon at the lower right corner of any cover image.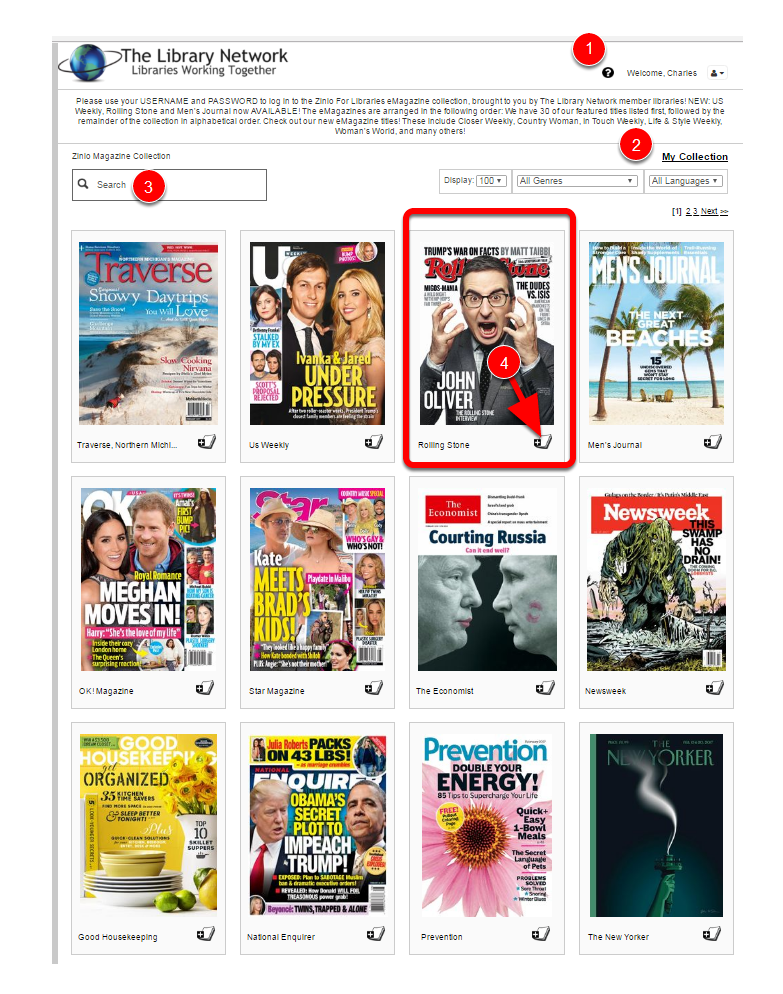 Digital Magazine "Check Out" Dialog.
When you see this screen you've "checked out" a digital magazine. Congratulations! If you're using a phone or tablet, closing then reopening the app will display your checked out magazines.
KEEP BROWSING, adds this issue to your checked out issues, then returns to the magazine covers.
START READING adds this issue to your checked out issue then opens this issue on your current device or desktop for reading.
EMAIL ME WHEN A NEW ISSUE IS AVAILABLE. This weekly email is a convenient way to be notified about new issue of the magazines in which you have an interest. Note that you may need to create a filter in your email program to prevent the emails from landing in your email spam folder.
About the Free ZINIO Digital Magazine App for your Tablet or Smartphone
The free ZINIO app is available from your smartphone or tablet's online store. After you install and open the Zinio app, you'll need to enter your ID and password.
BOOKMARK ICON tap it to display a list pages you've bookmarked in various magazines.
EDIT. Tap the EDIT link to remove or restore magazines from your device.
THREE DOTS Tap the three dots to view or edit your settings.
CHECKOUT MAGAZINES. Tap this blue button to get new magazines. This requires an Internet connection.
To READ a DIGITAL MAGAZINE, tap any magazine cover. The first time you "open" a magazine it will be downloaded to your device. All magazines that are downloaded to your device can be read without an internet connection.
CLOUD ICON. Magazines that haven't been opened (haven't been downloaded) will display the cloud icon.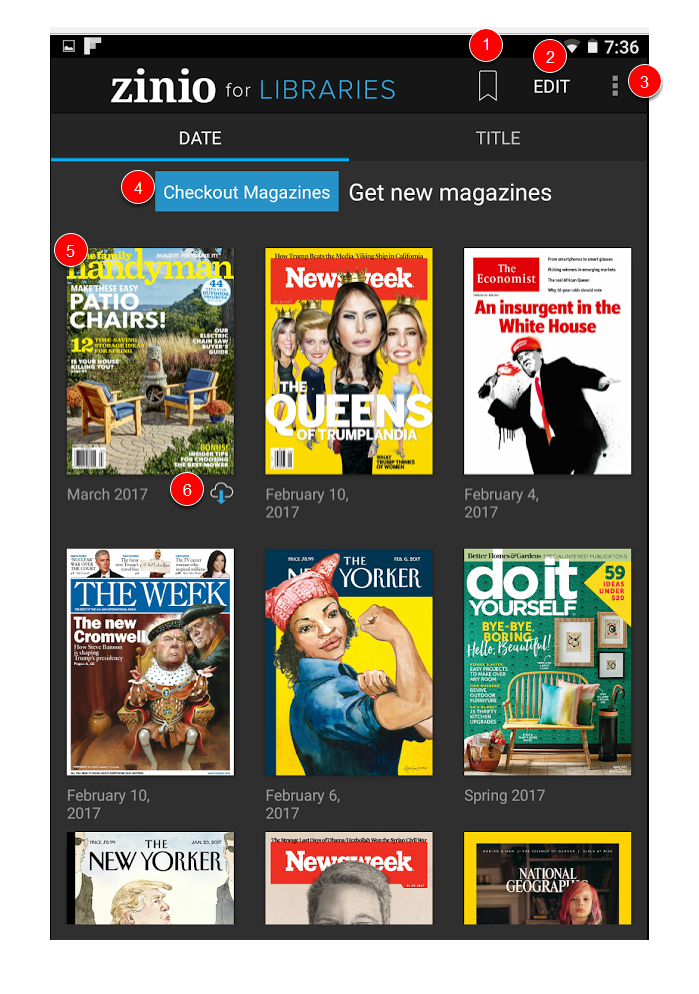 Navigating Free Digital Magazines on your Smartphone or Tablet
After you've tapped a magazine cover to open a magazine…
BROWSE PAGES, SWIPE your finger on the screen to the LEFT or RIGHT
MAGNIFY A PAGE, DOUBLE-TAP the screen then pinch-and-zoom. Double-tap again to allow page-swiping again.
NAVIGATE A MAGNIFIED PAGE, DRAG your finger on the screen
DISPLAY MENUS, tap the screen once. Menus will appear at the top and bottom of the screen.
LARGE TYPE, Tap the [TEXT] button which appears only on the first page of each article.
BOOKMARK a PAGE, tap the Bookmark icon
MENU (THREE DOTS) , tap it to display an Overview (thumbnails), Table of Contents, and a Bookmarks list.
RETURN to the PREVIOUS SCREEN: Tap the left triangle on the bottom row
DISPLAY the HOME SCREEN: Tap the circle on the bottom row.
DISPLAY ALL RUNNING PROGRAMS: Tap the square on the bottom row.
Displaying Digital Magazines in LARGE PRINT (and SHARING)
The [TEXT] button is displayed only when viewing the very first page of each article. Tap [TEXT] to display the article in ADJUSTABLE LARGE PRINT (the large type does not display images).
NAVIGATE the LARGE PRINT SCREEN by sliding your finger up and down on the screen
TO DISPLAY TEXT MODE MENUS, tap the screen once. Tap again to dismiss the menus.
ENVELOPE ("SHARE"). Tap the envelope icon to display what is more commonly known as the "SHARE" dialog. The SHARE dialog allows you to email the current article or display it in a speed reading program, if you have one installed.
ADJUST THE LARGE PRINT SIZE by tapping either the "a/A" icons on the top menu
ZINIO FOR LIBRARIES RESOURCES
List of "Zinio for Libraries" digital magazines in order of popularity
ZINIO LIST OF 500 MAGAZINES in order of popularity (Excel .XLS)
TOP FREE MAGAZINES BY POPULARITY According to ZINIO:
#1 Us Weekly Magazine | #2 Rolling Stone Magazine | #3 Men's Journal Magazine | #4 Woman's World Magazine | #5 In Touch Weekly Magazine | #6 Life & Style Weekly Magazine | #7 Closer Magazine | #8 LIFE Bookazines Magazine | #9 PEOPLE Bookazines Magazine | #10 Southern Living Bookazines Magazine | #11 TIME Bookazines Magazine | #12 TIME/LIFE Bookazines Magazine | #13 Cooking Light Bookazines Magazine | #14 OK! Magazine | #15 The Economist Magazine | #16 Star Magazine | #17 The New Yorker Magazine | #18 Newsweek Magazine | #19 National Geographic Interactive Magazine | #20 Good Housekeeping Magazine | #21 Allure Magazine | #22 Architectural Digest Magazine | #23 Bon Appetit Magazine | #24 Conde Nast Traveler Magazine | #25 Glamour Magazine | #26 GQ Magazine | #27 National Enquirer Magazine | #28 Vanity Fair Magazine | #29 Vogue Magazine | #30 WIRED Magazine | #31 Martha Stewart Living Magazine | #32 Food Network Magazine | #33 O, The Oprah Magazine | #34 Cosmopolitan Magazine | #35 Prevention Magazine | #36 Popular Science Magazine | #37 Rachael Ray Every Day Magazine | #38 Woman's Day Magazine | #39 Kiplinger's Personal Finance Magazine | #40 Popular Mechanics Magazine | #41 Women's Health Magazine | #42 Family Handyman Magazine | #43 National Geographic Traveler Interactive Magazine | #44 Reader's Digest Magazine | #45 Family Circle Magazine | #46 Country Living Magazine | #47 PCWorld Magazine | #48 AppleMagazine Magazine | #49 Men's Health Magazine | #50 PC Magazine | #51 Shape Magazine | #52 Macworld Magazine | #53 EatingWell Magazine | #54 Discover Magazine | #55 Esquire Magazine | #56 Maxim Magazine | #57 Runner's World Magazine | #58 Redbook Magazine | #59 Yoga Journal Magazine | #60 House Beautiful Magazine | #61 Vegetarian Today Magazine | #62 Smithsonian Magazine | #63 Dwell Magazine | #64 Weight Watchers Magazine | #65 Marie Claire Magazine | #66 Taste of Home Magazine | #67 Car and Driver Magazine | #68 Do It Yourself Magazine | #69 Men's Fitness Magazine | #70 Outside Magazine | #71 Saveur Magazine | #72 Better Homes and Gardens Magazine | #73 Elle Magazine | #74 Canadian Living Magazine | #75 HGTV Magazine | #76 Backpacker Magazine | #77 Popular Photography Magazine | #78 MOTHER EARTH NEWS Magazine | #79 ESPN The Magazine | #80 iPhone Life Magazine | #81 Harper's Bazaar Magazine | #82 Motor Trend Magazine | #83 ELLE DECOR Magazine | #84 Bicycling Magazine | #85 Clean Eating Magazine | #86 Astronomy Magazine | #87 Cook's Illustrated Magazine | #88 Taste of Home Holiday Magazine | #89 Rodale's Organic Life Magazine | #90 HELLO! Magazine | #91 New York Review of Books Magazine | #92 Outdoor Photographer Magazine | #93 The Atlantic Magazine | #94 Dr. Oz The Good Life Magazine | #95 American Patchwork & Quilting Magazine | #96 Allrecipes Magazine | #97 Mother Jones Magazine | #98 New Scientist Magazine | #99 Cook's Country Magazine | #100 7 Jours
TYPICAL LIST OF FREE MAGAZINES, Zinio for Libraries, in alphabetical order:
4 Wheel & Off Road Magazine FREE | Adweek Magazine FREE | All Recipes Magazine FREE | Allure Magazine FREE | American Cowboy Magazine FREE | American Craft Magazine FREE | American Girl Magazine FREE | American Patchwork & Quilting Magazine FREE | American Poetry Review Magazine FREE | American Snowmobiler Magazine FREE | American Theatre Magazine FREE | Android Magazine FREE | Angels on Earth Magazine FREE | Apple Magazine FREE | Architectural Digest Magazine FREE | Architectural Record Magazine FREE | Art Jewelry Magazine FREE | ART news Magazine FREE | Astronomy Magazine FREE | Audubon Magazine FREE | Automobile Magazine FREE | Autoweek Magazine FREE | Aviation Week & Space Magazine FREE | Backcountry Magazine FREE | Backpacker Magazine FREE | Bead & Button Magazine FREE | BeadStyle Magazine FREE | Beadwork Magazine FREE | Beer Connoisseur Magazine FREE | Better Homes & Gardens Magazine FREE | Bicycling Magazine FREE | Bike Magazine FREE | Billboard Magazine FREE | BirdWatching Magazine FREE | Bloomberg Businessweek Magazine FREE | Bloomberg Markets Magazine FREE | Boating Magazine FREE | Bon Appetit Magazine FREE | Brides Magazine FREE | Britain Magazine FREE | Budget Decorating Magazine FREE | Cabin Life Magazine FREE | Canadian Living Magazine FREE | Canoe & Kayak Magazine FREE | Car and Driver Magazine FREE | Chicago Magazine FREE | Climbing Magazine FREE | Cloth Paper Scissors Magazine FREE | Conde Nast Traveler Magazine FREE | Cook's Country Magazine FREE | Cook's Illustrated Magazine FREE | Cosmopolitan Magazine FREE | Cosmopolitan en Espanol Magazine FREE | Country Gardens Magazine FREE | Country Living Magazine FREE | CrossStitcher Magazine FREE | Cruising World Magazine FREE | Cycle World Magazine FREE | Destination Weddings Magazine FREE | Details Magazine FREE | Diabetic Living Magazine FREE | Digital Photo Pro Magazine FREE | Dirt Sports & Off-Road Magazine FREE | Discover Magazine FREE | Do It Yourself Magazine FREE | Dogs Life Magazine FREE | Dr. Oz The Good Life Magazine FREE | Drawing Magazine FREE | Dwell Magazine FREE | Earth Magazine FREE | EatingWell Magazine FREE | Economist Magazine FREE | Electronic Musician Magazine FREE | Elle Magazine FREE | Elle Decor Magazine FREE | Equis Magazine FREE | ESPN The Magazine FREE | Esquire Magazine FREE | Every Day with Rachael Ray Magazine FREE | Family Circle Magazine FREE | Family Handyman Magazine FREE | Family Tree Magazine FREE | FamilyFun Magazine FREE | Fast Company Magazine FREE | Field & Stream Magazine FREE | Fit Pregnancy Magazine FREE | Fitness Magazine FREE | Flying Magazine FREE | Food Network Magazine FREE | Forbes Magazine FREE | Foreign Policy Magazine FREE | Games World of Puzzles Magazine FREE | Gamesmaster Magazine FREE | Glamour Magazine FREE | Gluten-Free Living Magazine FREE | Golf Digest Magazine FREE | Golf Tips Magazine FREE | Good Housekeeping Magazine FREE | GQ Magazine FREE | Grit Magazine FREE | Guideposts Magazine FREE | Guitar Player Magazine FREE | Handwoven Magazine FREE | Harper's Bazaar Magazine FREE | Hello (Highlights) Magazine FREE | Hello! Magazine FREE | HGlV Magazine FREE | High Five (Highlights) Magazine FREE | High Five Bilingue Magazine FREE | Highlights for Children Magazine FREE | Hockey News Magazine FREE | Horse & Rider Magazine FREE | Hot Rod Magazine FREE | House Beautiful Magazine FREE | Inc. Magazine FREE | Inked Magazine FREE | Interweave Crochet Magazine FREE | Interweave Knits Magazine FREE | iPad for Parents Magazine FREE | Kiplinger's Personal Finance Magazine FREE | Kitchen Garden Magazine FREE | Knit&Spin Magazine FREE | Lapidary Journal Magazine FREE | Living the Country Life Magazine FREE | Lucky Magazine FREE | Macworld Magazine FREE | Marie Claire Magazine FREE | Martha Stewart Living Magazine FREE | Martha Stewart Weddings Magazine FREE | Maxim Magazine FREE | Men's Fitness Magazine FREE | Men's Health Magazine FREE | mental_floss Magazine FREE | Midwest Living Magazine FREE | Model Railroader Magazine FREE | MOTHER EARTH NEWS Magazine FREE | Mother Jones Magazine FREE | Motor Trend Magazine FREE | Motorcyclist Magazine FREE | Muscle & Fitness Magazine FREE | Nat Geo Traveler Magazine FREE | Nation Magazine FREE | National Enquirer Magazine FREE | National Geographic Magazine FREE | Natural Health Magazine FREE | net Magazine FREE | New York Review of Books Magazine FREE | Newsweek Magazine FREE | Nylon Magazine FREE | 0, The Oprah Magazine FREE | OK! Magazine FREE | Organic Life Magazine FREE | Outdoor Life Magazine FREE | Outdoor Photographer Magazine FREE | Outside Magazine FREE | Oxygen Magazine FREE | PAPER Magazine FREE | Parents Magazine FREE | PC Magazine FREE | PCWorld Magazine FREE | Piecework Magazine FREE | Plane & Pilot Magazine FREE | Poets & Writers Magazine FREE | Popular Mechanics Magazine FREE | Popular Photography Magazine FREE | Popular Science Magazine FREE | Powder Magazine FREE | Practical Horseman Magazine FREE | Prevention Magazine FREE | Quilting Arts Magazine FREE | Quilts and More Magazine FREE | RasPi Magazine FREE | Reader's Digest Magazine FREE | Redbook Magazine FREE | Road & Track Magazine FREE | Runner's World Magazine FREE | Running Times Magazine FREE | Saveur Magazine FREE | Self Magazine FREE | Seventeen Magazine FREE | Shape Magazine FREE | SIERRA Magazine FREE | Ski Magazine FREE | Skiing Magazine FREE | Smithsonian Magazine FREE | Sound & Vision Magazine FREE | Spirituality & Health Magazine FREE | Sport Fishing Magazine FREE | Star Magazine FREE | Successful Farming Magazine FREE | Taste of Home Magazine FREE | Teen Vogue Magazine FREE | The Advocate Magazine FREE | The Atlantic Magazine FREE | The Knot Weddings Magazine FREE | The New Yorker Magazine FREE | Town & Country Magazine FREE | Traditional Home Magazine FREE | Trains Magazine FREE | Transworld Motocross Magazine FREE | Transworld Skateboard Magazine FREE | Transworld Snowboard Magazine FREE | Traverse Magazine FREE | Truckin Magazine FREE | lV Guide Magazine FREE | Utne Reader Magazine FREE | Vanity Fair Magazine FREE | Vegetarian Times Magazine FREE | Veranda Magazine FREE | Vibe Magazine FREE | VIV Magazine FREE | Vogue Magazine FREE | W Magazine FREE | Weight Watchers Magazine FREE | Wired Magazine FREE | Woman's Day Magazine FREE | Women's Adventure Magazine FREE | Women's Health Magazine FREE | WOOD Magazine FREE | Woodcraft Magazine FREE | Woodworker's Journal Magazine FREE | Working Mother Magazine FREE | Writer Magazine FREE | Yoga Journal Magazine FREE |
More articles in this series:
Using INSTAPAPER for Ad-Free & Distraction Free Reading (Coming Soon)
Using REEDY to double your Reading Speed (Coming Soon)