A cheap NAS device lets you share files with friends, family or co-workers. It's easy to install, configure your router and plug it in…

Have you ever needed access to your computer files at home while you were away?
NAS is "Network Attached Storage." Essentially, you install a hard drive in an "NAS" box then plug it into your wired or wireless router. The NAS includes a utility disc for formatting the drive and setting user permissions.
You can use the NAS to store files just like the hard drive in your computer except the NAS box might appear as your computer's "Y:" drive and anyone on your home network can save and share files stored on it. This particular "NAS" device can be configured to allow the transfer or backup of files directly over the Internet via any web browser or FTP (after you make a configuration setting on your router allowing access to it).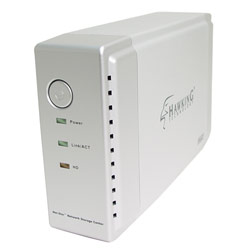 You can share/access your accounting files, your booking files, your music files, your picture files, your video files…
There are FREE solutions for accessing your computer at home, for example, the wonderful application called HAMACHI at http://www.hamachi.cc
There are reasons you may want to use an NAS instead of, or in addition to, an online sharing solution…
#1) All those other remote-control solutions require that you leave your home computer switched on. THIS NAS BOX DOES NOT. You can save wear-and-tear on your computer (and energy costs) if you leave your computer switched off and only the NAS switched.
#2) Log Me In and the others don't allow up to 5 people to share your files at the same time through the Internet. In my case, I'm sharing programming and data files, but they could be images, music, or video files. If you're
#3) Log Me In and other proxy services aren't effective at sharing files between computers on your home network. An NAS is designed specifically for sharing files on various computers at home (without having to leave computers switched on, and without an Internet connection).
I place a lot of importance on "contingencies." While I'll continue to use Log Me In, Crossloop, Hamachi and others, this NAS is a fine device that, for the price of a dinner, can give you and up to 5 other people a direct path to the files you want to share.
Buy.com has the Hawking NAS Attached Networking Storage Center for $23 (after rebate). You'll need to insert your own hard drive, up to 250MB. (Be sure to select "budget shipping" at checkout for free shipping).
Click here to buy the NAS File Sharing device for $23 After Rebate
Full description:
"The compact Hawking HNAS1 Net-Stor Network Storage Center is an economical and powerful device, and provides an ideal solution for small business and small office/home office users. The HNAS1 functions as both a file server and FTP server, and can be used to easily share video, music, and data files. The Network Storage Center features managed access via three pre-defined user authorization levels, which allows files to be shared both publicly and privately. The HNAS1 can also be configured to allow the transfer or backup of files directly over the Internet via the web browser or FTP. It supports all standard 3.5″ IDE Hard Drives of up to 250GB (hard drive not included). The Smart Setup Wizard makes installation of the Network Storage Center simple and the user-friendly web interface makes it easy to manage. The HNAS1 is a great addition to any network!"