Summary: What is the best writing app for the iPad or I phone?  Learn which writing app supports an external keyboard and which has the best on-screen navigation.    Learn about the best iPad writing app that can sync to your computer using WiFi instead of iTunes and a cable.
"Distraction free writing" apps (programs) are for getting words out of your head and into the computer – and not much more than that.   Distraction free writing apps lack the ability to perform even the most basic text formatting.  Ideally, you use a "distraction free writing" app simply to get the words out of your head and into the computer, then you copy and paste the text to your blog or to some other full-featured word processing or desktop publishing program where you'll format it.

At the end of this article, I'll list the several iPad / iPhone writing programs I've tried and links to individual reviews (as I add them).  "MyWritingNook," is my favorite of the several writing programs I've tried.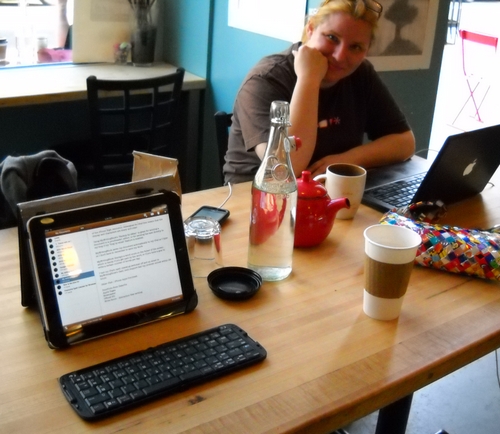 I had tea today with Erica O'Grady and she mentioned a program for Mac and Iphone called, "WriteRoom" which is similar to the MyWritingNook app.   They are both "distraction free writing" applications.
I especially like "MyWritingNook," because I can tap a "sync" button and quickly move from editing my documents on my iPad to any desktop computer (or to my iPhone), then back again.  For example, I can use my iPad to write a document at my kitchen table.  Tap the "sync" icon on the iPad, then walk into my den and edit the same document on my Windows desktop computer for a while, click the "sync" icon on that computer then go back to resume editing on the iPad.   MyWritingNook's document synchronization happens quickly and simply via a free password  protected Google account.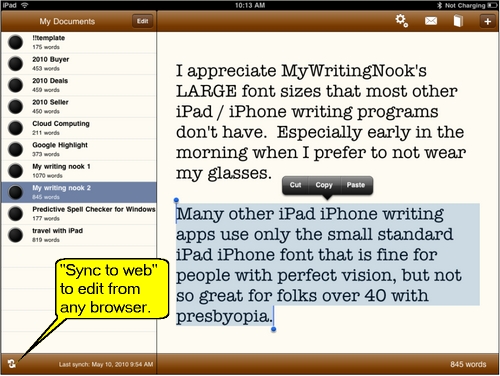 I appreciate MyWritingNook's LARGE font sizes that most other iPad / iPhone writing programs don't have.  Especially early in the morning when I prefer to not wear my glasses.    Many other iPad iPhone writing apps use only the small standard iPad iPhone font that is fine for people with perfect vision, but not so great for folks over 40 with presbyopia.
When I tap a word on the screen, MyWritingNook places the cursor immediately before (or after) the word you tap.  When I tap a word using most other
writing apps,  the cursor is dropped inprecisely mid-word.  MyWritingNook's method is much more useful because writers are more often editing entire words, not fixing spelling (Auto-correction fixes spelling).
MyWritingNook, like most other iPad/iPhone apps, employs an interactive spelling checker and can automatically correct spelling as you type.  Misspelled words that aren't automatically corrected appear with red underlines.   I can tap underlined words to select corrections from a list of suggested words that is displayed.
MyWriting nook works well with wireless bluetooth keyboards.  This is great news for writers who prefer to use full-sized wireless keyboards instead of the iPad iPhone non-tactile, on-screen keyboard.  It's likely that most other iPad / iPhone writing apps aren't compatible with wireless keyboards because they were written for the iPhone.  The iPad supports wireless keyboards, but the iPhone does not unless it's "jail broken" (hacked).
MyWritingNook has high resolution graphics for the iPad's large screen.   Many other writing apps were designed for the smaller screen of the iPhone High resolution redesigned for iPad this means that the display and characters are sharp and clear.
Using MyWritingNook's "Backup by eMail," is great for sending a document to a proofreader, or editor, or for sending text directly to a blog post, if my "blog by email" feature is enabled.
MyWritingNook saves my document automatically to my iPad as I type, so I don't have to remember to save my work.
MyWritingNook displays a word count on the footer of the screen which is handy if you get paid by the word, or if you have a goal to write a certain number of words each day.
I had my iPad's spell checking switched off and an email to MyWritingNook's responsive tech support solved my problem within 24 hours.
My wishlist for MyWritingNook is short.   I wish it had "undo" and "redo" buttons.  I've accidentally changed or deleted paragraphs and wish that I could quickly restore them.   Also, since I mostly use a wireless keyboard,  I wish MyWritingNook would support standard keyboard shortcuts for editing, such as ctrl+z for "undo" and ctrl-c (copy), ctrl-x (cut), ctrl-v (paste).   I also wish the word count was displayed on the header because it's obscured when I occasionally use the on-screen keyboard.
Also, MyWritingNook's dictionary and thesaurus are adequate, but they work only when you're online.   You can't tap a word on the screen for a definition, you must re-type it into the dictionary form or cut it and paste it.
Overall, MyWritingNook has a variety of unique features that make this app onethat  I use often.   I recommend MyWritingNook for anyone wanting to write articles on an iPad or iPhone.
Other iPad / iPhone writing apps I've tried:
DocsToGo from DataViz
Apple Pages
Notemaster
Office2 HD
Write Room – distraction free writing.
Photo Credit
Image captures and photographs by Chuck Eglinton